The COVID-19 pandemic has caused disruption across cancer care, including declines in cancer diagnoses across California and the nation. As physicians and healthcare providers continue to balance treating COVID-19 patients and conducting routine health diagnostics, they may have noticed a decline in the number of patients receiving cancer screenings.
Now more than ever, it is important to remind everyone to continue seeking care during COVID-19 because, even in the face of a global pandemic, cancer won't wait.
It is crucial that everyone, particularly those at risk for cancer, remain watchful for any new symptoms and schedule a medical appointment for evaluation. Recent data show that the number of cancer diagnoses during the pandemic has declined in California and around the nation. It is important to understand that this decline does not mean that fewer people are getting cancer. Rather, more people are going undiagnosed, many of whom will end up eventually presenting with a more advanced stage of the disease, when their prognosis and outcome are poorer.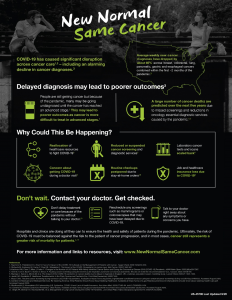 Check out the full toolkit of resources that can be customized to communicate with individuals about the importance of continuing to seek medical care and keeping in close contact with their doctor and medical teams during the pandemic at newnormalsamecancer.com.